RAH Infotech to Distribute Lookout SASE and Mobile Security Solutions in India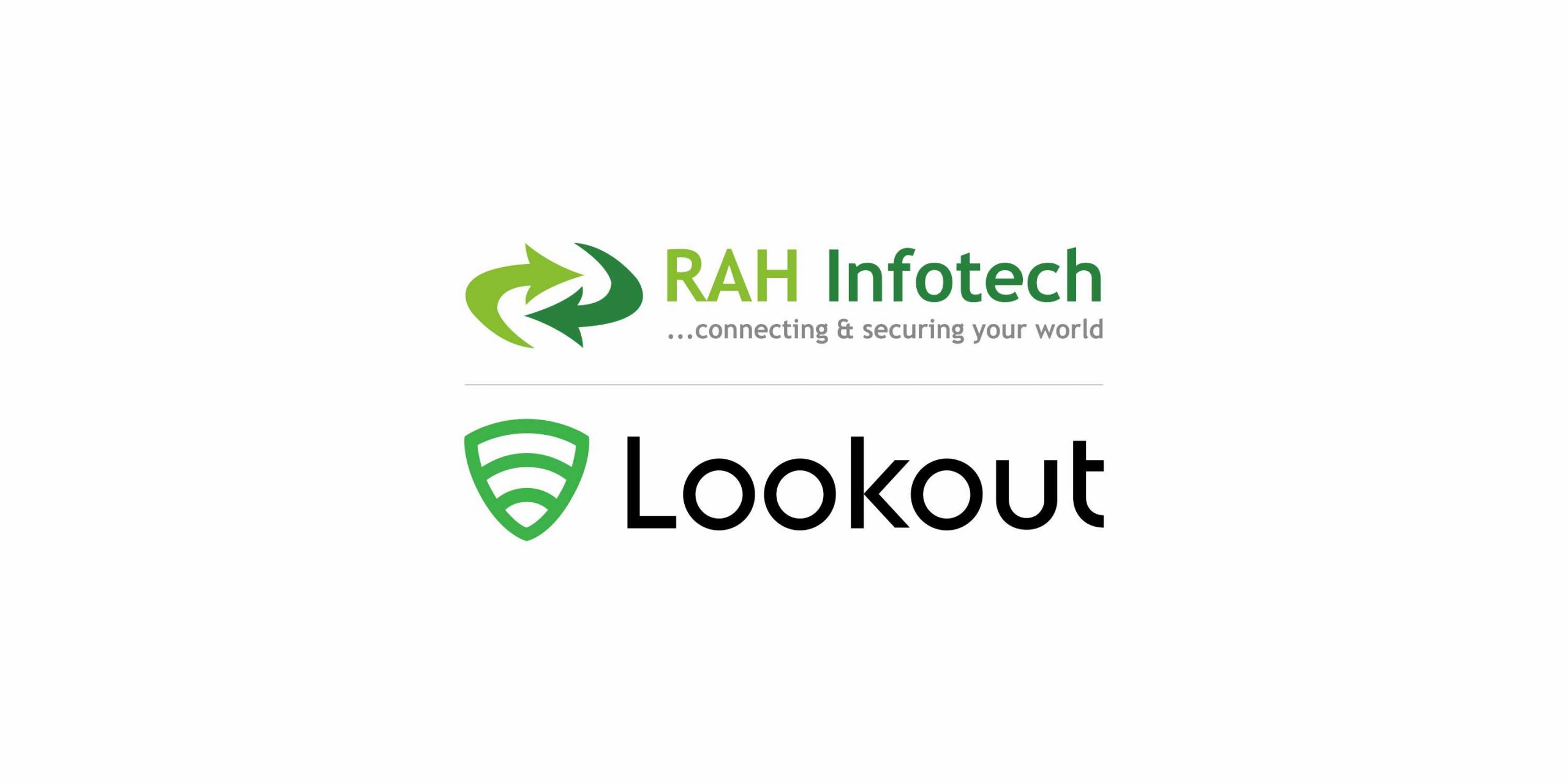 New Delhi, 10 January, 2022: RAH Infotech, India's specialty technology distributor has signed a distribution agreement with U.S.-based Lookout, the leader in endpoint-to-cloud security, to protect the digital assets of Indian enterprises and their customers.
With this partnership, RAH Infotech will leverage its massive pan-India channel network to distribute the Lookout Security Platform, which includes Lookout Secure Access Service Edge (SASE) and Mobile Endpoint Security solutions:
Lookout Secure Access Service Edge: Security perimeters have become obsolete as people use mobile devices and cloud applications to work from anywhere. The Lookout Secure Access Service Edge solution is tailor-made for the future of work and provides visibility, real-time data and threat protection across the entire infrastructure when accessing cloud services, websites, and private apps from anywhere, on any device.
Lookout Mobile Endpoint Security: Securing mobile endpoints that employees use to do their jobs is imperative to protect enterprise data as iOS, Android and ChromeOS devices are increasingly essential to digital transformation initiatives. Protecting against mobile phishing and app threats enables organizations to prevent cyberattackers who want to steal credentials and data, or halt operations with ransomware.
The award-winning Lookout Mobile Endpoint Security solution is powered by the Lookout Security Graph, which analyzes telemetry data from more than 200 million devices and 150 million apps, and continuously ingests and analyzes millions of URLs every day. By using artificial intelligence, Lookout secures organizations against phishing, app, device, and network threats efficiently and in a manner that respects user privacy. The use of machine learning on data in the Security Graph enables Lookout to automatically detect and respond to threats even if they have never been seen before.
By integrating Secure Web Gateway, Cloud Access Security Broker and Zero Trust Network Access capabilities with Endpoint Protection and Endpoint Detection and Response into a cloud-native platform, IT security policies for access and data classification can be written once and applied to all traffic passing through the single proxy. The platform also natively delivers Data Loss Prevention, User and Entity Behavior Analytics, Anti-virus/Anti-malware and Enterprise Digital Right Management to protect data from endpoint to cloud.
"We are excited about our distribution partnership with Lookout.  The Lookout Security Platform provides comprehensive visibility, compliance and security for cloud-integrated applications. Equipped with all of these capabilities, we are uniquely positioned to secure our customers' entire data path from endpoint to cloud," said Ashok Kumar, managing director, RAH Infotech.
"Lookout is a channel-focused company and we are pleased to have Rah Infotech as our India VAD to enable customers' digital transformation by empowering them to deliver applications securely," said Surojit Dasgupta, country manager, India and SAARC, Lookout.
"India's public cloud end-user spending was estimated to reach $4.4 Billion by the end of 2021*, driven by the double-digit growth of enterprises adopting hybrid working infrastructures. These cloud services and the mobile users connected to them must be protected," said Don Tan, senior director of Sales APJ, Lookout. "The core of our technology is about securing data no matter where your employees work. With an integrated platform, we give organizations complete visibility and insights into everything so they can make smart Zero Trust access decisions," he added.
About Lookout
Lookout is an integrated endpoint-to-cloud security company. Our mission is to secure and empower our digital future in a privacy-focused world where mobility and cloud are essential to all we do for work and play. We enable consumers and employees to protect their data, and to securely stay connected without violating their privacy and trust. Lookout is trusted by millions of consumers, the largest enterprises and government agencies, and partners such as AT&T, Verizon, VMware, Vodafone, Microsoft, Google, and Apple. Headquartered in San Francisco, Lookout has offices in Amsterdam, Boston, India, London, Singapore, Sydney, Tokyo, Toronto and Washington, D.C. To learn more, visit www.lookout.com.
About RAH Infotech
RAH Infotech is a specialty value added distributor of mission-critical technology solutions including network and cyber security, disaster recovery and cloud. In the last decade of its operations, RAH Infotech has been consistently providing world class IT solutions to a large number of channel partners and corporates in India and SAARC countries. RAH Infotech is the fastest growing value-added distributor in India with 15 years of expertise in providing Information Management and Security solutions to a large number of customers across India through its partnership with over 30 OEMs and over 500 channel partners. Headquartered in New Delhi, RAH Infotech has presence across India with International presence in Netherlands, Singapore, the UK and the USA. To learn more visit www.rahinfotech.com
* Gartner, April 29, 2021