RAH Infotech, BMC Announce Strategic Partnership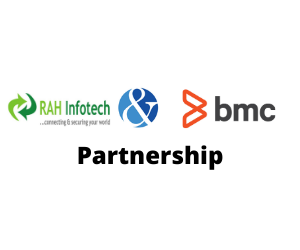 As a national distributor, RAH Infotech will offer BMC's entire suite of solutions including SaaS-based and on-premise solutions for cloud computing, automation, service assurance and pre-emptive data analytics
New Delhi, India, 26th May, 2020 – RAH Infotech, the specialty technology distributor of mission critical technology solutions including network and cybersecurity, data management, disaster recovery and cloud; and BMC, a global leader in IT solutions for the Autonomous Digital Enterprise, have forged a strategic partnership to offer a range of data analytics, service assurance and automation solutions to businesses.
As a national distributor, RAH Infotech will leverage its technological prowess and massive reach to offer BMC's full portfolio of solutions that helps improve business resilience and enhance customer experience with the help of cloud and on-premise data analytics and automation tools.
"We are excited and delighted to partner with BMC. This strategic partnership could not have come at a better time considering the Covid-19 pandemic and its impact on productivity of businesses across the globe. As digital transformation becomes central to businesses and enterprises for improving productivity and offer better customer experience, an intelligent and proactive IT and service management solution becomes all the more important. BMC's offerings in automation, SaaS-based and on-premise cloud solutions, intelligent data analytics and service management, will immensely help enterprises in their digital journey, said Ashis Guha, CEO, RAH Infotech. "With BMC solutions we can now offer intelligent and proactive service assurance and automation solutions to our customers and partners."
This new partnership strengthens RAH Infotech's core offerings in cybersecurity and data management with the integration of BMC's predictive analytics, intelligent cloud solutions and resilient service assurance products.
"BMC Software India welcomes RAH Infotech to our Partner Network," said Sunil Thakur, Country Manager India, BMC. "We look forward to supporting our joint customers in their journeys to becoming an Autonomous Digital Enterprise with industry-leading automation and AI-based solutions."
About RAH Infotech
RAH Infotech is a specialty value added distributor of mission critical technology solutions including network and cyber security, disaster recovery and cloud. In over a decade of its operations, RAH Infotech has been consistently providing world class IT solutions to a large number of channel partners and corporates in India and SAARC countries.
RAH Infotech is the fastest growing value-added distributor in India possessing 15 years of expertise in providing Information Management and Security solutions to a large number of customers across the country through its partnership with over 20 OEMs and over 500 channel partners. Headquartered in New Delhi, RAH Infotech has presence across the country with International presence in Netherlands, Singapore, the UK and the USA.
About BMC
From core to cloud to edge, BMC delivers the software and services that enable over 10,000 global customers, including 84% of the Forbes Global 100, to thrive in their ongoing evolution to an Autonomous Digital Enterprise.
BMC, the BMC logo, and BMC's other product names are the exclusive properties of BMC Software, Inc. or its affiliates, are registered or pending registration with the U.S. Patent and Trademark Office, and may be registered or pending registration in other countries. All other trademarks or registered trademarks are the property of their respective owners. ©Copyright 2020 BMC Software, Inc.
BMC—Run and Reinvent
www.bmc.com